TUSTI High Tech Recycling
Solves recycling issues and treats waste
TUSTI, founded by Jan Kolijn and Eline Stiphout, is a high tech recycling company. We solve recycling issues and treat waste streams that other recycling companies cannot handle. This is how we came to our first invention: a cleaning process to remove frying oil from HDPE.
The problem with oil poluted plastics
Oils and greasy residues on plastic are the nightmare of every plastic converter. Fat pollutes machines, makes storage smelly and causes health risks when going rancid. Another side effect when using the oily plastics in products, is that fat deteriorates the mechanical properties. Current recycling technology cannot clean this waste stream without using excessive energy or corrosive and unhealthy chemicals. Oily plastics are therefore sent to incinerators. What a waste of high (often food-grade) quality materials!
The TUSTI recycling solution
The patent pending technology of TUSTI makes recycling of greasy plastics possible. TUSTI brings high-tech knowledge at university level to the recycling industry. We buy dirty plastics, shred and clean them using our high tech recycling process and sell the cleaned plastic regrind to manufacturers. For all our recycling processes, we maximize sustainability: we work hard to reduce water and energy usage, and minimize the use of cleaning chemicals. Waste water is sent to a huge water treatment installation. The required energy is generated from landfill gas at the nearby municipal waste site.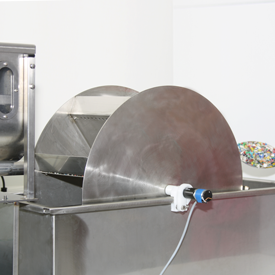 Interested?
Want to get rid of a greasy plastic waste stream? Do you want to buy high quality, clean plastic regrinds?